In which gold bars to invest?
25-02-2019
From time to time, we're asked which 'denominations' are advisable when you want to invest in gold. At any rate, you have to consider the fact that a 1 kilo bar (or larger) is most advantageous. This has much to do with production costs. Per bar, they're roughly the same. So if you buy a kilo and do that in one single piece, or in two 500 gram pieces, this already makes a difference. And we're not even talking about bars of 10 grams bars and the like.
As the chart indicates, the past five years there have been major fluctuations in the gold rate. Whoever bought gold at the moment the curve went into a valley and sold it again exactly when a peak occurred, made a very nice profit indeed. A first-class trader, in other words...
In our latest newsletter, we develop two scenarios with specific figures. In both stories, you play the leading role: first that of a cautious investor and then that of a first-class trader. Did you miss this newsletter? We have it in PDF format. Feel free to e-mail us at wim@edelmetaalrichard.be and indicate the language: Dutch, French or English.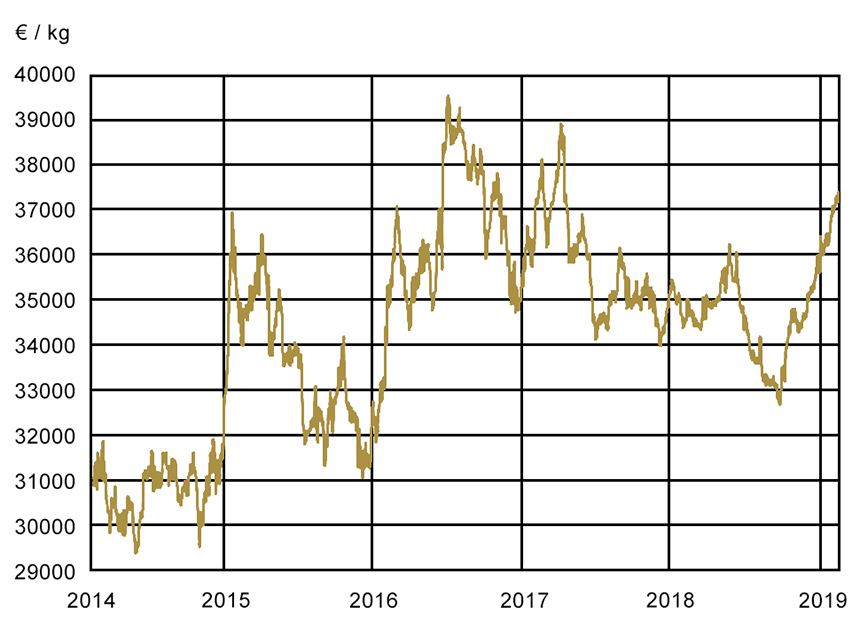 Back to the overview